With this bill having passed the House Education Committee, it is looking like the only thing that has a real chance of stopping this bill from becoming law is Governor Huntsman's veto.
Bagley draws it like he sees it: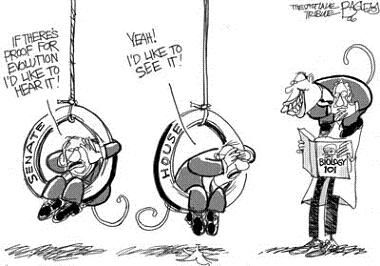 Also in the
Salt Lake Tribune
, Duane Jeffery, teacher of integrative biology at BYU, and nine other scientists in Utah colleges and universities, as well as the state paleontologist, signed the following
opinion
published yesterday. One point they mention that I have not written on much here, I think is important to note:
… if developments reportedly appearing in other states (Georgia, Pennsylvania, Kansas) were to happen in Utah, our scientific and economic futures could be compromised. Top-flight scientists and research organizations (and their funds and accomplishments) are reluctant to come to states where science is treated with suspicion and where their children would not receive a high-quality education. Rather, they are attracted to states where science is valued and viewed with openness and public support.
They could have gone on to mention that several others, like myself, who aren't as tech minded and who resent the religious stereotyping and judgment that goes along with these kind of "developments", also might think twice about this place. I think it kind of sad that several Senators, Gayle Ruzicka and her eagle chicks consider it a "family value" to condemn other Christians and accuse them of atheism. They really should stop imitating the Pharisees in that respect.