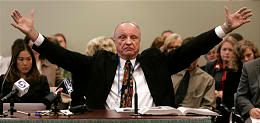 Based on articles in the
Deseret News
,
Salt Lake Tribune
, and the
Daily Herald
here are a few comments on the Senate Education Committees discussion on SB96.
As Sen. Mark Madsen, R-Lehi, put it: ''Unless there is something out there that I don't know about, the missing link is still missing.''
No amount of evidence can ever be shown. No matter how convincing, or irrefutable. If you brought the fossils, the genes of millions, even if you brought the "missing link" itself and put it on the table right in front of them, they would still say, "the missing link is still missing". It can never be found. Their literalist interpretation won't allow it.
Kent Harrison, BYU professor, spoke with far more wisdom,
"There are really no competing theories," he said. "It is a great, unifying idea. The basic idea of evolution is not in question."

"But the answer is not to fall into the same trap that these scientists do, of seeing evolution and religion as opposed," Harrison said. "Evolution and religion can be compatible. Do not pit them against each other, as SB96 seems to do, in a battle in which religion is often the loser."

"There are many scientists, like myself, who accept both a belief in God and evolution. Evolution is simply the method that God used to create the human body."

"You can not legislate science. Please reject SB96."
Larry Madden, of the Utah Science Teachers Association asked the obvious question,
"Whose viewpoints on the origins of life are we going to talk on? Everyone's?"
Now the
Deseret News
says that Sen. Mark Madsen "noted nothing in the bill requires any other theory to be introduced." But I don't think Madsen is thinking things through here. The stated purpose of the Bill is "to encourage students to critically analyze theories regarding the origins of life or the origins or present state of the human race, consider opposing viewpoints, and form their own opinions". I would imagine that in order to do that the student would ask the obvious question, "What other theories, besides evolution are there?" Just what does Madsen propose the teacher should talk about?
The ACLU mentions the obvious answer to Madden's question and the warning that goes with it,
The American Civil Liberties Union of Utah warns that the bill could violate the First Amendment.
Margaret Plane, ACLU of Utah's legal director, points to the language of the legislation that frequently mentions more than one theory and the phrase "consider opposing viewpoints."
Evolution is the only recognized scientific theory, so "the only alternative theories are religious theories," she said. "It opens the door for religion to come into the science classroom."
Despite this the
Deseret News
notes that Senate President John Valentine, has said the bill is likely to pass in the Senate.